Posted by
In the course of going through some records in basement storage–all the rinked copies of records I've since upgraded, all the extensive discographies whose limp bulk testify to nothing but the pre-internet danger of having the proverbial "little knowledge" (for me, all it used to take was some passing remark in some magazine that "[Rap Producer X] sampled that [Prolific Artist Y] joint" and I'd be off and running–now it's fifteen years later and I've got all these fucking Tom Scott records to deal with), all the records that weren't my taste at the time but which seemed interesting and were thus purchased "just in case" for a someday that I now know will probably never arrive, etc.–I happened upon a small clutch of records that I must have at some point separated from my main collection for safekeeping, back when I believed that was the way to do it. Most of these shoddily plastic-bagged elite were holdovers from my very early days of record collecting, and had been elevated by nothing so much as the beginner's simple glee that things like these actually existed and were actually themselves: "Look, it's a beat-up copy of What's Going On! On a record! A for-real old soul record!" "Look, it's a beat-up Blue Note record! On a record! It's just like in those coffee-table books, but not in a book!" But one of the records was my parents' copy of Earth Wind & Fire's I Am, and it is different.
There's a line from Albert Camus about how man's work is the slow journey to rediscover through art the two or three great and simple images in whose presence his heart first opened. You've gotta understand: I Am is the first record that I have a conscious memory of—the first one I saw, the first one I heard and knew. It was such a constant on my parents' turntable platter that for several years of my early life I believed that all the music in the world—even the music on the radio—lived on this single red-labeled gold-lettered black disc that had been furnished to my parents on one great day sometime before I was born.
Inwardly, I obsessed over the cover. The front was weird and icky, presided over by the head of a stern old man conjoined with some gleebus baby thing. The back was apocalyptic and threatening but also exciting beyond belief, with fire and mushroom clouds and viking ships and galleons and waterfalls and skyscrapers and temples and ziggurats and thick slabs of broken earth and knights with lances and domed cities and, sweet mother of god, flying saucers glinting in the sky. In the gatefold, though, lay the great harmonizer: Nine black Shogun Warrior superheroes arranged in an indestructible pyramid of power and welcoming–high-foreheaded, opulently clothed, faces either smiling beneficently or furrowed in the understanding of the ages, and towering like oaks in a ferny and flowered Eden where they are attended by a ring of gnostic symbols in the sky and a worshipful blue hermit crab at their feet.
Outwardly, I thought the music was life itself. It felt like the very essence of generosity of spirit, the golden symbol of a perfect, adult peace. All those harmonies, having neither edge nor end, seemed to overlap and interweave in a vast sunlit delta fanning out at the mouth of Everything, beckoning me and everyone I knew into the beginning of the great river of the understanding of What It All Meant. I wish I could be more concrete—tell you how much I loved the horns or something–but the truth is that I understood this record mostly as an element of life, and I didn't think of it as having discrete musical aspects any more than I thought of sunlight as having color.
My triangular fascination with I Am–as object, as vision, and as sound—was exploded into full pyramidal realization when, at the apex of the album's popularity, an entire Earth Wind & Fire concert was broadcast on television. It was a real event for my parents: they popped popcorn, made sure to turn on the tv a few minutes early, and watched every moment of the show with great enjoyment, singing along and grooving at their respective ends of the couch. I was like five years old, and sat between them, wide-eyed and trying not to burst out of my skin. In listening so much to the record and poring so deliberately over the cover, I'd arrived at a familiarity with its harmony and mystique that I mistook for understanding. But in seeing it brought to life where all childhood things must be brought to life—on the screen—I felt a capstone fall into place, the completion of circuits that I didn't know remained open. I watched what seemed like a hundred band members charge from the back of the hall in an incandescent surge of  feathers and banners and pure energy, a wave of angels flooding the aisles and racing toward the stage, mouths already—already!–open in  song. When I realized that what I was watching there in my home was the people from inside the cover actually playing the music on the record that was on the turntable just a few feet away from where I now sat between the people who bought the record and put it on the turntable so that I could hear it all those times, the whole thing was made so real to me, so singular, so mind-wide and wonderful, that I thought my heart was going to blow.
This was the very first time I remember feeling like I'd really felt the totality of anything, that shock of recognition. But even as I swooned from the unspeakable thrill of it, it felt bittersweet. Before, even though I was mostly agog at the record and the unified power that seemed to project from every facet of its substance and presentation, I'd been able to fillet enough commonality out of the few little details that I could get any traction on ("UFOs? Hey–I like UFOs, too! I have some books with them in it!") to think that, yeah, maybe there was some place for me in the obvious enormity of this music and image. Watching the concert, though, and feeling everything galvanize so completely and unmistakably, I began to feel pushed away. It was becoming clear to me that their enterprise was adult and perfect; as a kid and an aspirant, this was a temple that I would have to admire from the outside. And this nascent alienation wasn't a simple case of watching fantasy cross into reality and subsequently lose its allure or become less extraordinary, but a case of watching fantasy cross into reality and instead become–just by virtue of its being able to exist somewhere besides my own head–more fantastical. Over years I had created in my mind an incomplete image of this impossibly perfect thing, and then in a single moment recognized its complete image, recognized that its perfection was not only not impossible but was something that you could sit in a room and witness for yourself, and recognized, most dejectedly, that it didn't need me to create anything—it was already fully realized and video-relayable, as polished and unassailable as I could ever have imagined. The adult me guesses that what I was feeling was something along the same continuum as whatever you must feel when you realize that while your children still love you, they no longer need you. Or something. All I could have told you back then, though, is that it sure made me feel funny.
A little while later, when I was six, I was watching something else on the same tv while jumping up and down on an ottoman in our family room. One of my landings hit with just the right English and the ottoman shot out from under me, rocketing the crown of my head right into the raised brick ledge in front of our fireplace. I don't remember the pain at all, but I remember very clearly the displacing exhilaration of seeing for the first time a large amount of my own blood.
My parents had raised me Catholic, so I'd had frequent opportunity to think about blood and its significance. A lot of the mechanical specifics of that stuff—bloodlines, spilled blood, blood oaths, blood sacrifice, blood into wine, etc.–were beyond me at the time, but I knew enough to know that it was something to take seriously. My ignorance and my sense of gravitas eventually compromised, leaving me at a point where I really stopped thinking of blood as a physical substance, and instead considered it more of an all-important essence, a unifying ether that moved through everyone and everything everywhere ever in the history of time and outer space and the universe.
Once I split my head open on the fireplace, though, my thoughts on all that demystified and became a lot less abstract. I immediately understood that blood was both, high and low: Yes, blood is the great cosmic lubricant, and Yes, it is also this wet stuff that will have to be cleaned off the brickwork. With Comet, probably. Yes, blood is this deep, mysterious force that I hear about in church but do not understand, and Yes, blood is this stuff that I somehow make myself, within my own body. It was untouchable and out there somewhere, but it was also right here, in me, and right there, on the fireplace. I still knew blood as powerful and sacred, running in darkness its immaculate circuits, but as I sat on the couch with a washcloth full of ice pressed into my sticky hair but very much not dead, I also knew that my simple self and my small life and my split scalp somehow figured into some big, weird work. I was somehow the beginning of the line and the end of the line and a stop along the way, all at once.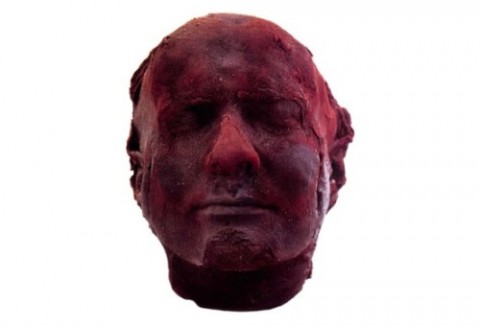 I don't think I again felt that thrilled kind of dizzy–so humanly cracked yet so cosmically included!–until I was about sixteen. It was around 1989, and I wasn't really actively listening to old music at all; I'd fallen in with a crowd that was a couple years older than me, and so spent almost all of my listening time in frantic catch-up, borrowing and junkie-dubbing as many tapes as I could from every one of them in a sophomore's two-pronged attempt to accumulate some fluency in The Good Shit of recent years while also affecting an enthusiasm that would hopefully mask things like the fact that I had paid money for INXS 45s in the not-distant-enough past. Nonetheless, after seeing Parliament-Funkadelic name-checked so often both in the crusty rock journalism that I was then taking as gospel and in the breathless articles on the sample-based rap that I was then just getting into, I finally knuckled under and rode Hutch with my man Ethan up to Manifest Discs and Tapes on an overcast Saturday, hell-bent on getting anything by Funkadelic, whose name I found embarrassing but who my research had led me to understand was the more rugged chamber. They of course didn't have any, so I and my eight dollars settled, begrudgingly, for a cassette of Parliament's Mothership Connection.
Once I got it home and listened to it, I was immediately disappointed. Above and beyond hoping it would make me feel not so bad about having run out of Red Hot Chili Peppers records to buy, I thought it was gonna be a whole lot freakier, sonically speaking–just some outlandish, not-of-this-world shit that would moon-roof my brain and blast my ears clean in a shower of stars. And this was not that. It was all horny and keyboardy, an endless string of funny-t-shirt choruses with no verses, punctuating minute after minute after minute of silly patter reminiscent of those De La Soul skits that I had to spend so much time fast-forwarding through. I heard nothing that I liked, and could hear nothing of what the artists that I liked must have once heard. I knew–knew!–that I should have held out for Funkadelic. Fuck.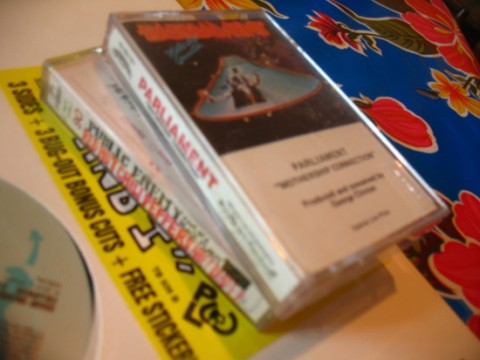 I found, though, that even wincing in my frustration the whole tape glided easily by. My music budget was such that I couldn't afford to not listen to it, but none of my friends liked it, so I always listened to it alone, and I found that I kept returning to it without exactly meaning to. The draw certainly wasn't the much-heralded P-Funk visual presentation: the tape I bought was a thoroughly budget affair, with the record's cover art reduced to the size of two large postage stamps and printed noticeably off-register and, inside, a single inlay panel of plain-type production credits second-billed underneath several sentences explaining Dolby noise reduction. Nor was I hooked by the technicolor afronaut mythos that was the record's ostensible raison d'etre: I was in my mid-teens and pretty much mainlining affectation, so the fact that there was this highly crafted concept did appeal greatly, but at the same time I was dense enough and self-involved enough that most of the metaphors behind the storyline were lost on me, so a lot of the dramatic framing just rolled off of me as cartoony and distracting, little more than an excuse for a bunch of titles that felt ridiculous to say out loud. But if the tape was a letdown in these broad senses, there was something beguiling in the fine-grain.
I thought the opening track, "P. Funk (Wants To Get Funked Up)," was mostly cheesy come-on, drifting and overlong, but after the spaced-out narrator tells the story about checking out earth music and finding it wanting (he gives it a "3"), he then quickly adds "…but it was cool," and something in the way he says it manages to convey all at once a heavily informed judgment, a neighborly sympathy, an absolution, and a breezy slide forward into whatever's up next.
The shiny sloganeering of the next track, "Mothership Connection (Star Child)," didn't have much for me beyond its catchiness, but a couple minutes in there's a minor-key downturn ushering in a hook that takes a well-worn and passive entreaty for deliverance–"Swing down, sweet chariot…"–and kits it out with "…Stop and let me ride," a resolution that's twice as assertive ("Stop"), just as penitent ("let me"), and infinitely more sly; I went back and forth on what exactly the italics meant, but it was always clear to me that the concluding "ride" wasn't just a ride but was in fact a ride.
In "Unfunky UFO," the track after that, I couldn't get over the sub-chorus (or is it sub-sub? I lost count): "You could feel so much better / if you would show me how to funk like you do." Even though I knew that it was just a silly little hook in a silly little song, I had preexisting ideas about the kind of control it takes to tell someone that you know what will make them feel better and I had preexisting ideas about the kind of surrender it takes to ask someone to teach you something, and all those ideas  got twisted on their axis when I heard them interlaced so perfectly and so offhandedly. It seemed to me an act of supreme generosity, and even my long-standing hatred of "funk" as a verb fell to the side in the head-spin of hearing the phrase's double helix of mastery and need bend into a smile right between my ears.
And it went on like that, from song to song, all these stray moments sparkling in their intervals to thread me through the whole tape once again and once again once more. Whatever initial disappointment I'd felt in not having found something freakier got slowly transfused by a feeling of companionability with the record's mongrel maximalism and its peculiar, underlying peace. The thick sonics and resolute, easy tone made me certain that the underneath was this vast, fluid slab of wordliness and experience, and I came to feel that the record was speaking from a position of knowing absolutely everything, from having been absolutely everywhere, and from having enough ballast—both musical and philosophical–to not have to worry about anything, not ever. In that way, I found it calm and calming. But simultaneously feeding into and emerging out of that depth was this endless effusion of signifiers, ad libs, and jokes. Its central power came draped in frankensteined robes, crying tears both happy and sad, leaking gold doubloons from its mouth, and farting stardust. It inhabited thing after thing fully, and with an odd grace was able to shrug them off without ever feeling like it was throwing anything away, exactly. The record seemed to have more good stuff than it could ever use, and was also enough of a spiritual spendthrift that it couldn't not use such good stuff, so atop and below and between the music and lyrics proper there's a near-constant improvisatory drizzle that ends up being the sundae on top of the sundae.
For example, in just two or three minutes at the middle of "Mothership Connection": George Clinton leers that he's "doing it to you in 3-D!" but then slides in the brighter assurance that "you have overcome / for I am here…"; just after that, just after the song dips and darkens into a prayer mat and calls for its chariot, his edgy "what's happenin', C.C.?…" runs into a welling background refrain that, just in time, obscures his plaintive follow-up: "…Have you forgot me?"; dude takes it way out with gnostic cool–"Are you hip to Easter Island? The Bermuda Triangle?" [Station break for some openly worried synth sounding very much like the theme from In Search Of, a 1970s tv show hosted by Leonard Nimoy that investigated all manner of mystery and supernature and that scared me shitless when I was a young youth; it pictured Easter Island in its opening credits and seemed to broadcast exclusively on weekend evenings when my parents were out.]–only to boomerang back in with the regular-cool "Ain't nothing but a party!"; an attempt at stately annunciation ("Citizens of the universe, I bring forth to you…") crumbles under the weight of a grin it just can't hide ("…the good times!"); the line about "Doing it to you in 3-D!" repeats, but this time with the addendum "So good it's good to me!" imparting it a gleefully bizarre selflessness by once again flip-flopping the server and the served, this time in the recursive idea that one's own enjoyment of what one is doing can only come when that enjoyment is commuted into the enjoyment of others (when you're a teenager with self-satisfaction as your alpha, that's a pretty big idea).
And that's only a couple minutes' worth. And that's not even the singers singing or the players playing—this is all just the extras. I spent a long time hating all this distracting side-business, and felt that that Clinton's cackling self-delight in it verged on ghoulish. He was like a radio dj who wouldn't quit talking over the records—I wished he would shut up already and quit crowding The Stuff, the real stuff. Now, though, I think I understand.
…
Like a lot of people in Chicago, I don't own a car. But before I lived here, I lived in South Carolina, where I did. It's impossible to overstate how harrowing it was to transition from being a driver there to being a walker here; suddenly having to care about things like "dressing for the weather" and "having singles" and "remembering to bring a fucking umbrella" felt like an indignity of the first order. And while I've mostly gotten over it, and am mostly really happy to not have to worry about things like "parking" and "insurance" and "dibs," something of that loss of car has always stayed with me, and the thirteen years or so I've spent here as a pedestrian have so now thoroughly encased in the amber of nostalgia the preceding umpteen years of driving life that on the infrequent occasions when I do get behind the wheel I tend to get a little moony, overly conscious of Ahh, Driving!, of The Romance Of The Road, all that shit. As embarrassing as it is now, I used to be even worse with it.
Anyway, there was a period a few years ago where I was renting cars pretty frequently, most often leaving work early on Thursday to pick up a car for a long-weekend visit to family out of state. Early in the endless minutes time that I would come to spend in the waiting area of my local Enterprise Rent-A-Car outpost sipping at cone after cone of exhaust-tinged Hinckley & Schmitt, it became apparent that I and my long-distance purposes were in the minority: pretty much every other person in there was renting a car just so they'd have something nice to drive around in, a crisp late-model something–"you know, for the weekend."  As a pragmatist and a cheapskate, I was floored. Even more surprising to me was that a lot of these folks already had a car, they just for some abstract-seeming reason wanted—no, needed–a nicer one, a newer one, or even just a different one. I spent a lot of time eavesdropping on clerks grilling renters pursuant to the paperwork on the clipboard in front of them and hearing stuff like: "I'm having friends in from out of town who haven't seen me for a while" or "I'm just trying to give that old Honda out there a break" or "No, I mean, my car's clean and everything, almost brand-new, really, but still: I'm not tryna roll up to Keith n' nem's thing in my daily ride, you know?"
I think those folks had the right idea. They seemed seemed restless but good-natured, working the seams to get just what they wanted, get it newer, get it in a different color, get it for that rate you were talking about earlier, get over, get the keys, get on the road, get back, and get it all over again. Looking back, it's clear that the real jazz is not the "car" part, but the "rental" part—the inherent disposability, and how that imbues the whole process with an energy and a backhanded optimism, the improvisatory joy that only comes from having and then casting off (cf "Go on and take / 'cause I don't need what I make" [The Fans, 1980] and "take this beat / I don't mind / I got plenty others / and they so fine" [Prince, 1988]; see also "def O.J." [passim, 1979-]).
At the time, though, I was a histrionic idiot and acting as if in renting a car I was petitioning to be part of some sacred brotherhood of drivers, and was thus condescendingly bemused by these motivations that seemed so frivolous and so opposed to my own. I had all these grandiose ideas about Travel and about Access and about other overinflated theoretical potentialities that I felt sure were conferred upon a(n) humble pedestrian like myself when behind the wheel of an actual automobile. Sweaty, dogged-shoe supplicant that I was, I'd been seeing the heart of car rental not in the rental but in the car, the car, Sweet Jesus, The Car: the thing, the shiny, total, pristine thing, low-mileaged and half-tanked, gasketed at every aperture, noise reduced and climate controlled, requiring neither physical exertion nor exact change, lasering ironclad and unassailable across the paved world like a quick wink from a smiling God. Shit was ridiculous.
And ironic, too. Because most of the time I was visiting family in suburban Ohio, and at some point during every single visit I'd find myself in the presence of a version of the kind of bright, epic totality that I seemed to be chasing through these lofty lines of thought, and every single time, in the face of this satori, I would turn away.
My wife and I (and eventually our kid and eventually our kids) would have spent three or four or five days at her dad's or at my mom's, days where the time would just sort of spool out, as if from an endless supply. The hours between meals seemed to fill themselves, without effort or design: sitting on a porch looking at owned lawn and owned trees; driving to a big-box store right now or maybe in a half hour or maybe later or anyway before tomorrow to buy things cheaply and, more importantly, easily; microwaving countless dainty cups of weak but loving coffee and making ourselves available to the stream of friends and family who not only knew our people but knew us, back when we were younger and cuter and simpler and closer to what any warm heart would surely know were our true selves. Noon after noon would pass that way, like lucky clouds. And then–bags packed, car loaded, goodbyes said, and individual mailboxes ticking away at both peripheries of the distance stretching out behind us—it would hit:
Couldn't we just stay?
Couldn't we just turn right around and slide into this readymade life, the one our families have kept warm for us all these years, and forget the janky, teetering life that we've made for ourselves? Forget about our world of worry and logistics and the whole brainfuls of strategy that it takes just to get through a day? Forget about piecing together what we need from what can be had within walking distance, forget the neighborhood crazy who high-stepped up to our two-year-old daughter and called her a "catshit whore," forget all those new people who never knew the childless us, forget that whole hardscrabble world that lies coiled in wait for our return–couldn't we instead just disappear back into the easy weave of this place where all is love and air conditioning, all memory and convenience and no cool? We're still not on the main road yet, so there's still time, isn't there?
Well, yes. But no. None of our parents understands what we're doing in Chicago anyway, and they'd love nothing better than for us to turn in the keys and come home, back into the golden circle. But what makes that circle so wonderful, so magnetic, and so heart-burstingly hard to step outside of is its perfection. And in that perfection, it is closed. The good life that it represents is the good life of the resolved whole, and there is no place for me there.
There is, I think, that good life that is of the spirit, and holds as its goal a connection to a diffuse, universal perfection. Through attainment, one is gradually freed from wants and desires and discomforts, uncluttering the mind and clarifying the self. All of this toward contentment, mastery, the resolution of all things.
Then there is a good life that is of the blood. There is too at its core a perfection, yes, but it reaches not toward this completion but out from it. Its is not the purifying pursuit of some sleek and radiant singularity, but the improvisation of a rough mandala, pulsing out in wide loops, pushed past obstruction, pushed beyond rupture, pushed through all and everything by the filling and the emptying of the working heart.
I see that good life of the spirit—in the brotherly, pharaonic brilliance of Earth Wind & Fire and in the open arms of my families, their smooth circuit of resolved pasts and promising futures joining to electrify a fair present—and feel in it a beauty that lifts me off my feet. But what I don't feel in it is much possibility. In its resolution, it has little room for improvising; in its abolition of need, it has little cause to burn; in its relentless focus on the essential, it has little time for the extra. There's not much bounce, you know?
The spirit has meant so much to me for so long that I know something of it will always live in me. But I also know that I can now only live in the blood. I need that spread more than I need any ascension, I need that push and pull more than I need harmony. Attaining some kind of peace will, I guess, always be a goal, but I suspect that I'll forever be pushing that goal out in front of me, out just past my own grasp. The unified life will never interest, occupy, or energize me as much as the hustle surrounding my capacity to contain it all, my ability to lose it all, my scramble to take it all in, and my rush to give it all away. I'm a great believer in the triumph of the human mess, I am for an art that embroils itself with the everyday crap & still comes out on top, I am, again, no closer to being the boy that I was than I am to the man I thought I would be, and I long ago stopped wanting George Clinton to shut up.
Coming up from the basement and listening to my parents' copy of I Am, I see the shining symbol of a purity that was and a perfection that could still be, and I smile in its embrace even as I sadden in the knowledge that it will always feel at least a little like we're hugging goodbye.
But returning the car late on a Sunday with just enough time between here and the city to listen to Side 1 of Mothership Connection on the way, and hearing George n' nem riffling through words and music like they've got the real cards in their pockets and humanity's own trick deck in their hands, I'm thrilled not by the possibility of any single version of life, but by the possibility of these thousand versions of myself, pushing through the nighttime capillaries toward downtown, into the glittering smile of my own beautiful city.