The Howl
Posted by
Early this year, I got two records: Ducktails' Landscapes and Matrix Metals' self-titled. The two-thirds of the Ducktails record that I like consists of rinky, wistful throb supporting session-clean guitar that emotes from behind miles of mask; it sounds a lot like a play-along record, like something very important has recently been excised from it. The Matrix Metals record is far more canned and intense; it's all just atomic fragments of what sounds like incidental music from a thousand instructional videos and offshore-bankrolled cop shows, slap-chopped into madness-inducing, pullulating near-unlistenability, then hastily looped to infinity only seconds after being taped off of someone's tv, still wriggling. Both records are on the same Brooklyn-based boutique label, and both have cover graphics that look like they were xeroxed from Trapper Keepers, and both seem to be mining different veins of a similar kind of media-aware 1980s nostalgia: Ducktails expelling its anonymous and sentimental soundtrack in that last gasp before teen movies started using radio songs, and Matrix Metals' compulsive channel-change supersaturating the synapses in clip-art mimcry of what we back in those pre-internet days mistook for "overload." And while the records' packaging and attitudes thus hint at a certain 1980s, I can hear in their very sound an echo of a different 1980s, of a more personal 1980s, of something I've always thought of as The Howl.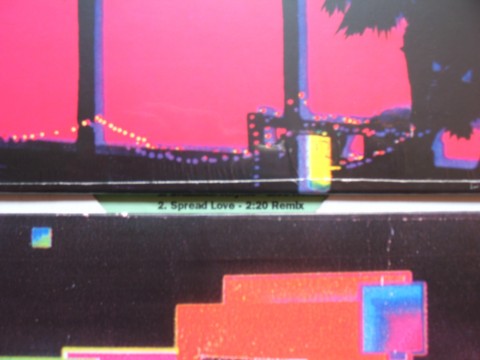 Deep in the teeth of my initial high-school obsession with Public Enemy and the attendant poring-over of liner notes, I was caught by the nickname of one of their producers, Eric "Vietnam" Sadler. A few years later I found out that he'd been tagged "Vietnam" because of an olive-drab army surplus coat he used to always wear, but when I first saw the name I barely gave it a second thought, mostly because I thought it couldn't have been more perfect or more clear: The music sounded dirty and chaotic and lethal and jungly and inescapable—of course dude's nickname is "Vietnam"; I mean, what else would it be? Similarly, though I've since come to understand that references to the music of "The Big 80s" usually mean big names and big record companies doing big spending in pursuit of a big sound and big videos and big spectacle (if you're feeling ironic and/or work for VH1, you'll also want to include something here about "…and big hair!"), but for a long time I assumed that it referred to The Howl, a sonic characteristic that seemed to me to reside in the upper air of a lot of the popular music back then. I heard it concretely in sounds like the drone that surged steadily through Kate Bush's "Running Up That Hill," flickering between being a real synthesizer and being a fake voice, and I felt it in abstract in things like the ether that worries and paces Phil Collins's "In The Air Tonight," and from which even Those Drums cannot fully deliver the song. The Howl was a particular kind of spaciousness that didn't feel full so much as it felt cavernous; not the huge blank sterility that it's always been branded, but something more windswept and turbulent; nothing as simple as the deadening effect of studio gloss, but something complex: a haunting–alienating and vast, vast. When I first started hearing about "The Big 80s," I thought, "Boy, they got that right."
All that notwithstanding, when I first started perceiving this Howl, this specific kind of space, it wasn't at all dramatic or any cause for real reflection. I was just hitting double digits in the mid-80s, and thanks to independent comic books and behind-the-times public libraries, I was already a fan of retro-future science fiction (you know the stuff: loners with fedoras and rayguns, zipping through pristine cityfuls of towering geometry in their hovering Studebakers, high above a sleek and general citizenry), and thus expected that the capital-f Future would be somewhat devoid and empty, and not unpleasantly so.
Here at home we'll play in the city
Powered by the sun
Perfect weather for a streamlined world
There'll be spandex jackets one for everyone

What a beautiful world this will be
What a glorious time to be free

– Donald Fagen, "I.G.Y."
This Gernsbackian scenario seemed to be the endpoint of what I at first thought I was hearing in The Howl, and I was cool with it. I'm not gonna pretend that the music embodying it was always my favorite shit back then, but I'd definitely listen to something like "The Boys Of Summer" and think: yes, that stylish vacancy and that cleanliness and that low level of cultural detail (minimal, but vivid and carefully chosen: Cadillacs, Wayfarers, etc.–or, actually, no "etc."), all of it propelled by this faint but distinctly modern feeling of anticipation, of rush…yes, this is the sound of what's in store. It made sense. Again, it wasn't always my favorite music, but I felt like it was presenting a very polished and adult future, one that didn't seem like a bad thing to look forward to at all. Whenever it and I met, we would just step right into one another, both having finally arrived.
In the years immediately following, I began to hear it differently. Probably due to some cocktail of both becoming a more careful listener and the pervasive curdling effect of flowering teen anxiety, the promise implicit in these sonics began to look like something else. While I had initially been drawn in by the music's cool professionalism as an analogue for that clean, engineered future, the more I listened, the more I began to think that the space constructed in this music was something more lonesome. The limitations of the technology started coming into view: All these synthesizer textures and subtle studio washes felt like clear attempts to affect something like what brushed drums do in jazz–eliminate the dead spaces, fill up the room, and keep some kind of moving current under everything—but they couldn't yet approximate those imperceptible swells and diminuendos that mark human work, so what was instead created was this creeping, disembodied pulse that seemed to go on forever, and which gave the lie to the alluring immediacy that the songs were insisting upon. The songs were hundred-story-tall feats of engineering that required whole hangars of auditory space to assemble; but they were only meant to show off the height that they could attain—masking the surrounding depths was a necessity, lest the perceptual process of the listener possibly tangle and darken with effort. The kind of records that were able to shake this—Sade, George Michael, "Planet Rock"–succeeded not by puffing to fill more space in a misguided attempt to balloon closer to the listener, but rather by stripping down and flattening the space around them; by ignoring dimensionality, these songs seemed to come much closer to occupying all their possibility. They sound plummy and total. In contrast, the music that I'm talking about here made the killing flaw of believing that the alienating expanses could somehow be camouflaged by, that any limit could be established by perpetual keyboard underthrob, massed chiffons of synthetic angel breath, or any other digital atmospheric whose very reason was its limitlessness, its ability to define a void.
In this flaw is the genesis of The Howl. All of these happenings within the music, when viewed from the outside (which has always been my only vantage point), had an increasingly isolating effect on me. What I heard were these very frontal, appealing songs that nonetheless sounded like they had bad fathoms stretching out behind them. As a teenager, I considered it my prerogative not to think too much about the latter, but I found myself nagged by the weird turbulence that seemed to blow through the whole of these songs in a way that I could neither ignore nor understand. This was not the populist, cosmopolitan tabula rasa that was so tantalizing in that Donald Fagen song, so comforting in its stylish surfaces and lack of secrecy. This was more like a Cy Twombly text painting, recognizable as writing, but cropped into illegibility; there is a clear frequency there, but one that you are nonetheless somehow unable to receive, an inability made all the more frustrating and shaming by the very recognizability of the subject. That's how it felt to me, to on one level recognize this radio music as reflexive birthright, absolute lingua franca, but to also sense deep in its fiber this eternal current stretching far beyond my vision, ungraspable to me but essential, I was sure, to everything. Whatever was going on up front in these songs, there was always a missed train leaving out the back.
"…Because I know exactly when film noir began," Thomson said weirdly. And he went on to recount, for a class of students born in the early 1980s, the impact of the assassination of President John F. Kennedy on 22 November 1963.

"But that, he said, "was not where film noir began." We were all of us in the seminar room beginning to wonder what in the world Thomson was getting at, but we were also nervous. "Film noir," he said, "began in the basement of a Dallas police station, two days later," when Jack Ruby shot Lee Harvey Oswald—when, to make history into genre, a nightclub owner shot and killed the man arrested for the crime.

But wait, everyone thought—and the question would have been asked out loud if Thomson had not been moving so fast—film noir goes back to the early 1940s; how could it begin in 1963?

"–and it was then," Thomson said of that moment in the police station, "that all the paranoia and fear that film noir had been prophesying for twenty years, the sense that our lives are not our own, that forces we cannot name are ruling our lives and our destinies—it was then that everything that film noir had prophesied in America exploded into real life."

The assassination of President Kennedy, and then the removal of that event from the realm of what could be known to the realm of mystery, to a realm where one felt what could not be known as a rebuke and an oppression…

— Greil Marcus, The Shape Of Things To Come
Along with The Howl, I was also at the time conscious of another sonic element, one which I never thought of as having a name but which I will here refer to as The Chant. Like The Howl, The Chant was primarily a post-Fairlight phenomenon, but one that aspired to an earthier, more organic sound. It's in the open-mouthed "ee-yo-oh"s of The Police's "Every Little Thing She Does Is Magic," the ersatz bamboo-flute trill that opens Peter Gabriel's "Sledgehammer," and on and on. The Chant always seemed like it was trying to tap into the kind of low-grade globalism that was stirring back then. It was meant to evoke distance, yes, but a benign variety: the distance between you the first-world listener and the rest of your multi-hued fellow travelers on the Big Blue Marble, a distance that can be closed—and so easily, too, can't you see?–right here in this very song, perhaps via strategic employment of unobtrusive hand-drumming. One world, man–one world. This was a soft distance, the distance in The Chant, the distance between Here and There, and just to register it was to start to ameliorate it; there are all these cool and exotic things and peoples that you've never been exposed to, but that's okay, because now that you've been exposed to this scrubbed sliver of the Other, the awakening can begin. Seen?
But The Howl embodied something far more difficult: the distance here at home. Whenever I heard The Chant in some song or another, though I might have felt a small reflective twinge of "Wow, maybe there really is all this stuff out there in The One World that I'm just completely missing," those pangs never stuck for long, because whatever I was missing was obviously some exotic stuff that wasn't really for me anyway. But when I'd hear The Howl in a song, I felt like I was missing something that I should by all counts recognize; this was resolutely American-style pop music, my native idiom, but some part of it was still eluding me, and in this I "felt what could not be known as a rebuke and an oppression." It was one thing to hear Ladysmith Black Mambazo radiating out of some Paul Simon song and to think for a minute about my remove from sunny, faraway lands that I would possibly never see; it was something else altogether, something far more unnerving and displacing, to listen to Bruce Hornsby And The Range's "The Way It Is," to understand it as being a song just as corny and frontal as I knew myself to be, and yet to recognize at its periphery an ongoing dark hum—the barely audible synthesizer druling in the background, yes, but also something woven between the lacunae within it and around it—a faint but ceaseless buzz of unknowability. There seemed to me to be no place at all in this dopey bummer of a song by Bruce Fucking Hornsby for any streak of mystery, but still, there it was—I was sure I heard it; and the fact that I heard it, the fact that I couldn't ignore it, and the fact that I couldn't get my mind around what exactly I was hearing, all this combined to make me feel as though I was being cast out of something. That in my inability to make sense of this one part of the ongoing conversation, I was being denied access to the full landscape of my own speech; and that in recognizing that some consistent mechanism was at work through it all, I was being denied even the romance of the void.
I think my conception of the particular isolation effected by The Howl has a lot to do with being a midwesterner. I spent an important middle sixteen years in the South, but I spent the first nine and the last eleven in the midwest, and to paraphrase the old saying about Catholics, I know that I will behave and misbehave as a midwesterner long after I have stopped residing as a midwesterner. To be a midwesterner is to be an inhabitant of limits and consequences. There is maybe a certain heightened connection to the natural world (maybe), and possibly better overall perspective, but it's bollixed up in pervading awareness of your (and your neighborhood's and your town's and your state's) relative inconsequence to history and to news. (Note: This might be a good time to point out that I'm talking here about my own decades-old midwest; folks below a certain age are just gonna have to take my word that before the internet collapsed everything this kind of regionalism and these kinds of borders used to exist and used to kinda make a difference.) And what's more/worse, the temperate quality of the seasons extends deep into the regional soul, tending to blunt your sense of the dramatic and make too much gothic fixation on what you might like to think of as the extremities of your own surroundings feel ridiculous. Much of what happens here happens not where we are taught that Big Things happen, not within buzzy little warrens of import and cool, but instead within open locations of blatancy and blank function. It was all about sifting things out of the empty, staying open to any shred of freak shit that you might be able to fold into your own history, that second set of books you were keeping to someday supplant the utterly unusable history that you came into ("Birthplace Of That Famous Guy Who Left As Soon As He Could!").
That's why Miami Vice was a really big deal to me: because on the one hand it was other-planetarily exotic and cool and art-directed to within an inch of its life, but on the other hand, it felt fully familiar, essentially midwestern. It was total Howl TV. Long periods of nothing much at all, occasionally punctuated by these small, intense episodes that echoed in my adolescent-head eternity and that I struggled in vain to connect. There'd be some long, elliptical conversation on some long, boring porch or in some big, dumb breezeway, or on some long drive through nowhere and to nowhere, and then there'd be a funeral with a goat in the coffin, or a few seconds of Willie Nelson packing a backgammon case full of drugs, or a scene in a hangarlike warehouse with three purple mannequins hung ritualistically by link-chain collars, a guy in a suit comes along and kisses the mons of one of them, then shoots all three to splinters with a machine gun. It was electrifying because I was a sheltered kid with a nose for the prurient, but it was terrifying because I saw these mindbending things adrift in this sea of empty space, dead time, and meaningless talk—a sea that ultimately washed them over and under and carried on. That these horrific things could happen in the first place was far less scary to me than the fact that they could happen and not be a big deal. Just back to the car. Back to the porch for more talk. The legs of Icarus thrashing in the water are nothing compared to the man focused on his own plow, his bent neck's nape looking just like his brown horse's ass. Know what I mean? I couldn't let myself believe that the boring shit would win, and I was sure that these eruptions were too outlandish to not all somehow form some kind of constellation, and at moments I felt like I had the key almost in hand. But I was young, and the expanses were vast, and a week was a long time back then, and The Howl yawned, and between this episode and the next, the drift would have sucked everything through my fingers.
Like the kind of desperate bricolage that it took to try and make sense of the interesting parts of Miami Vice, the gymnastics of heart and mind that it took to connect the disruptions in midwestern texture was an intensely energizing effort. Because maybe one of your friends lucked into a handed-down issue of some zine that mentioned a tape that you could special-order from Record Bar and whose liner notes mentioned some book that you could special-order from B. Dalton and which opened with a epigraph that revealed itself to be the source of the cryptic title that was written on an otherwise unmarked cassette dub that someone's brother in college had left in someone's car and that you'd been too afraid to ask about because you didn't want to seem like the kind of square that wouldn't know what was the name of the tape and what was the name of the band which you didn't know but now you sort of knew and it all let you feel as though you were, piece by piece, cracking the code to the world of cool that had been at some point long ago cleft at its equator and divided evenly and exclusively between New York and LA. It's the kind of brief, beautiful bloom that can only occur in a place and time where you have so little larger external context for anything cool that you are forced to rely solely on inner context, to believe that every cool thing you know about must therefore necessarily be related somehow. But it was also nerve-wracking, because the shadow of reason grows, and even as you're carried along on the exhilaration of finally maybe getting everything to make sense, finally managing to frankenstein everything you like into what you're sure this time must correspond to an existing and accepted aesthetic, there's this slowly worming doubt: these things, these things that you've been pivoting on, that you've used to make the case for (and to) yourself—maybe they're the wrong things. Even if you're secure in how your mind has connected all of them to each other, in the pre-internet, no-cable, flyover-country absence of any accessible validating system, the great (if suppressed) unknown is how they connect to everything else that might be out there. That twelve-inch that you blind-bought because you recognized that one name from the j-card, and which you thought sounded great and really tied in with that book that she lent you and subsequently became your, like, map for that whole summer? What if that very twelve-inch is known—by Those Who Know—to be the group's total sell-out move, the single blight on their catalog? Are you unwittingly going out like those hayseeds from Russia or wherever who stepped off the boat with an idea of America formed entirely by Billy Joel or "Rappin' Duke" or Charles In Charge or something similarly irrelevant? If it turns out, after all and everything, that you have placed your faith incorrectly, can your center still hold?
For me, that is the test that lies coiled at the center of The Howl, unanswerable. I've thought a lot about this particular body of music and about whether I'm asking too little, seeing it as pop music that is mine by right and should thus give up its lone sapphire—its workings—so easily and gratefully, or asking too much, focusing on insignificancies and scrabbling for connection and continuity where there is none. I've felt bad for being unable to resolve the pop music that I can hear with the void that I can sense within it, and I've felt bad even for feeling bad, because whatever once seemed to be at stake is now either a kind of future that I no longer believe will come or a kind of coherence that I no longer believe matters. And if that's so—if I've been asking too much or too little, if I can now neither complete the circuit nor convince myself that its completion would the key to anything—then where does that leave me and all my years? I've been so long chasing these flickers across the widening gyres, and still I remain this version of Penelope at her loom: the essentially under-informed midwesterner operating on obscure pieces of information, seeking unifying profundity in Miami Vice, mooning over the caged quality of the attempted high-lonesome at the end of "I'm On Fire," panning through it all for nuggets that will shore up my bridge to nowhere. If The Howl was once my sense of whatever was closing me out, it's become clear that it is instead whatever has closed me in. I don't worry about my 80s like I used to, but they do retain for me that slight salt of unfinished days, and in hearing records like Ducktails and Matrix Metals and recognizing in them an insistence upon the resonance and the load-bearing capabilities of these gathered echoes, I can feel a connection once again just beyond my grasp.
Space is doubt; I have constantly to mark it, to designate it. It's never mine, never given to me. I have to conquer it.

– Georges Perec
But the house is haunted and the ride gets rough

and you've got to learn to live with what you can't rise above

if you want to ride on down

down in through this tunnel of love

– Bruce Springsteen
CONSEQUENTIAL DATA
– There's a car around my neighborhood with a bumper sticker that says "HOWL If You Love City Lights Book Store." There's another car with "I'd Rather Be Reading Bukowski," and still another with "I'd Rather Be Reading Jane Austen." The situation is deplorable, really. I've recently seen a car with a Foetus Interruptus sticker, but it feels like too little, too late.
– The only show that comes close to Miami Vice in terms of sheer Howl TV is Twin Peaks. Twin Peaks comes in second, though, for what I feel is an over-reliance on establishing shots of trees.
– One Friday night in middle school, my friend Brent came by with his pastel-accented slimline boombox and we walked around our neighborhood in the dark, blasting "In The Air Tonight" on repeat and affecting a ridiculous Run-DMC-informed strut. We were kinda goofing, but it also felt like we were trying to ward off something.
– At the markets in Charleston, South Carolina, there are these Gullah weavers who are regionally renowned for the intricate baskets they make from sweetgrass and for their sometimes impenetrable dialect. I now know that the Sunset Grill in Don Henley's song of the same name is in Hollywood, but I was living in South Carolina when that song was all on the radio, and always assumed that the line about how "the basket people walk around and mumble" meant that it was a song about Charleston.
– My man Jonny said one time that the genre-defining toodling that opens "Sledgehammer" was actually sampled from an Alpha Blondy record. Can anyone confirm?
– In high school, I noticed that the negative space between the facing Es in the Sleep Chamber logo kinda-sorta formed the cross from the Psychic TV logo. I was sure that this meant that they were in fact secretly the same band.
– A few years ago, in the course of spectating Sheer Magic's unsurpassable monthly funk night here in Chicago, my man Rob and I were discussing what it is that makes midwestern soul and funk so potent. We went back and forth about a lot of things, but he ultimately came up with what I think is the right answer: "It has something to do with the seasons."
Posted by