The Rich Will Never Be On Our Side
Posted by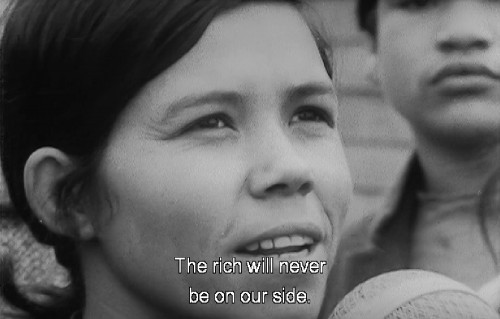 For Chilean folk singer Victor Jara the cost of non-conformity was his life. On September 16, 1973, he was killed. Despite 4 days of torture and having army officers mockingly ask him to play guitar after breaking his arms, Jara, forever on the side of the people, instead sang "Venceremos" (We Shall Triumph), the campaign song of the Popular Unity coalition. He was shot and killed, his body was dumped in the outskirts of Santiago.
Jara was a poet and songwriter, an activist and outspoken supporter of the Marxist president Salvador Allende. The Popular Unity coalition (Unidad Popular), the party backing Allende, sought equality for the people of Chile in an effort to bring her out of third world conditions. Thanks to documents produced from a Freedom of Information Act request, longstanding suspicions are confirmed that the United States government was complicit in the damage done to Chile in resistance to president Allende's aim for cultural equality.
Much effort has gone into convincing Americans of the evils inherent in Marxism, socialism, communism and any leader who espouses such philosophies. Interestingly, if we actually look at Allende's economic, social and political initiations, Marxism reveals itself much more humane than capitalism, which is exactly why there's so much propaganda against Marxism in America.
Allende was a doctor, and as evidenced from his earliest work in politics as the Minister of Health, he was concerned most for the health and well-being of everyone in Chile. Allende spearheaded many reforms, including the creation of maternity care programs, increased pensions for widows, free lunch programs for poor children, safety laws to protect factory workers, and legislation that brought medical attention to three million Chileans. This was the face of Allende's Marxist socialism platform, or as he often referred to it, "social democracy." The Popular Unity program benefited all Chileans. The only people to whom it was detrimental were the handful of elite, super wealthy businessmen of Chile and the United States corporations who had interests in Chile's main resource, copper.
Chile leads every other country in the world in its production of copper, and there were two main transnational corporations exploiting that production, International Telephone & Telegraph (ITT) and Kennecott Copper Corporation.
An American army lieutenant founded ITT, and as corporations do, ITT acquired other corporations around the world. These included not only communication companies but also electronics and aircraft manufacturers. ITT built and sold fighter planes, radios and radars for the Nazis. In fact, ITT won a $27 million settlement for damage from Allied forces to one of its aircraft manufacturing plants in Germany.
As soon as Allende showed strength in Chile, ITT began a campaign to overthrow the Popular Unity coalition. Through newspapers and telephone companies owned by the corporation, ITT began a smear campaign against Allende. There was also money funneled through the U.S. government, specifically the CIA, to prepare a military overthrow of Allende.  A year before Allende was killed an American reporter disclosed a memo from Dita Beard, an ITT lobbyist, showing collusion between ITT, the Justice Department and the White House. ITT funded the Republican National Convention in return for a favorable settlement in an antitrust suit against ITT. Even before Allende was killed, ITT proved itself to be terribly inhumane: supporting the Nazis, involvement in Watergate, and the assassination of Chilean people. While ITT was terrible in its humanity, they were very successful as a corporation. The tenets of corporate business put profit over everything else. Stockholders demand action that serves the corporation regardless of "outside interests." If the life and welfare of people fall within the scope of outside interests, that's not the concern of the corporation. As proven in recent history, a corporation, now recognized as a legal person, is afforded more rights than a natural person, especially in areas of bankruptcy and mass tort litigation.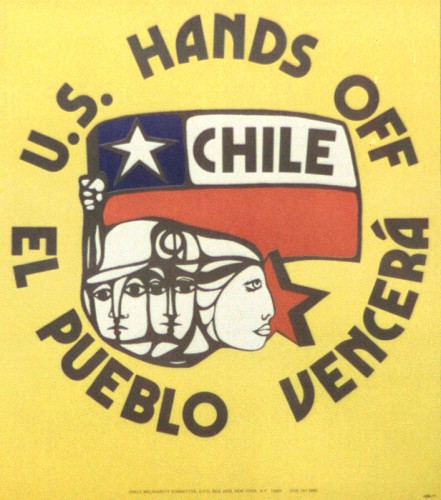 «« It follows a pattern if you dig what I mean »»

[As an aside — and in an effort to keep some tenuous link to all things record-related, I should mention that ITT has the distinguished honor of being detested in song by more than one artist. Gil Scott-Heron brilliantly tied all the politics of time together in his, "H2O-Gate Blues." Fela Kuti, Nigeria's king of afrobeat took on ITT directly, criticizing them for devastating Africa in exploitation of her natural resources.]
Sadly, Salvador Allende's overthrow was not the first, nor the bloodiest, in the American effort to "democratize" the world. There is a certain doublespeak engaged by politicians, businessmen and news outlets. It's a well-established, thinly-veiled technique that most people are cynically immune to. Using trillions of "defense" dollars to help "liberate" countries and allow them to "participate" in world democracy, while our transnational corporations gain access to business opportunities within their borders. This economic imperialism — whether it be copper in Chile, oil in the Niger delta, lithium in Afghanistan, minerals for electronics from the Congo, United Fruit's banana republic in Honduras and Guatemala, blood diamonds in Liberia — covers the world and intensifies the imbalance between the rich and poor, those with access to technology and those left in the dark, and the healthy and the hungry. The doublespeak of democracy conceals itself in the idea of the American dream. The inalienable rights — that is, those entitlements in our absolute possession, unable to be taken from us — life, liberty and the pursuit of happiness, and that all men are created equal, are purported to be available to everyone while a system of exploitation works against those rights. Those who can claw their way out of the system of exploitation are often championed, in a "rags to riches" style, as examples of the American dream coming true. In reality, though, those who overcome the exploitation are a rare few. For as long as a system that allows one class to exploit another exists, there will be a majority who toil to serve a select few. It was the idea of an actual democracy — of the people, for the people, by the people — that Allende worked toward.
On the first anniversary of his presidency, Allende said, "Democracy and freedom are incompatible with unemployment and lack of housing, the lack of culture, illiteracy and sickness. How is democracy strengthened? By creating more jobs, giving better wages, building more homes, providing the people with more culture, education and better health." These words could be from any democratic president, as the rhetoric sounds the same. The only difference is that Allende acted on his statements. Worker wages were raised, rents were frozen, free milk was provided for children, hospitals were ordered to treat all who sought medical attention, and small businesses were given tax breaks. Allende began a massive agrarian reform and asked workers to participate in an economy that they now had a stake in. As a result, unemployment plummeted to less than 4 percent, production rose, and more citizens than ever before (especially the youth) engaged in the political process.
Through all the reform Allende was plagued with imperialist insolence at the hands of the White House. Funneling millions of U.S. taxpayer dollars into preparing covert operatives out of the embassy in Santiago for a coup, creating an "invisible" economic blockade against Chile's industrial plants and natural resources, cutting all humanitarian aid, as well as funding extreme fascist groups. White House-appointed CIA gunmen assassinated the army chief of staff, René Schneider and naval Captain Arturo Araya. Allende supporters within the Chilean military were tortured, resulting in many resignations, including the commander-in-chief of the army, General Carlos Prats. These crimes, coupled with legislation limiting Allende from making military appointments, allowed the White House-chosen General Augusto Pinochet to become commander-in-chief of the Army.
Despite all of this, Allende went before the United Nations General Assembly and spoke truth to power, advocating humanity over murder, democracy over the exploitation of transnational corporations, peace over war profiteering, and health and education for all:
We are aware of the fact that, when we denounce the financial and economic blockade applied against us, it is somewhat difficult for world opinion, and even for some of our fellow citizens, to understand what we mean. This aggression is not overt and has not been openly declared to the world; on the contrary, it is an oblique, underhand, indirect form of aggression, although this does not make it any less damaging to Chile. We are having to face forces that operate in the half-light, that fight with powerful weapons, but fly no identifying flags and are entrenched in the most varied centers of influence…

What I have just described to the assembly amounts to a perversion of the fundamental nature of international agencies, the utilization of which as tools of the policies of individual member states is legally and morally unacceptable no matter how powerful such states may be. Such misuse represents the exertion of pressure on an economically weak country, the infliction of punishment on a whole nation for its decision to recover its own basic resources, and a premeditated form of intervention in the internal affairs of a sovereign state. In a word, it is what we call imperialist insolence…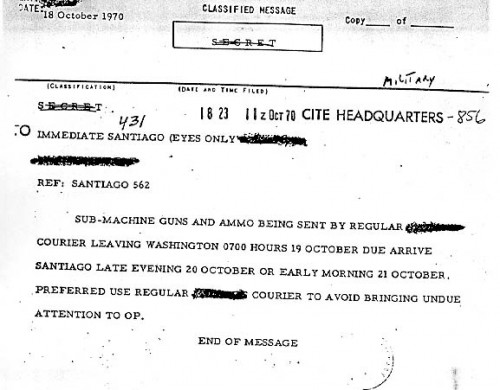 Unable to stop him any other way, the White House orchestrated a coup d'état through General Pinochet. On September 11, 1973, Allende was murdered in the presidential palace. Pinochet was declared president by military junta and immediately totalitarian tactics reigned supreme in Chile.
The press was censored. Students, priests, political activists and women who wore slacks were arrested. Fascists groups burned books in the street that they deemed "subversive." Under martial law, congress was suspended; all labor organizations, independent judiciary and free press were outlawed. When jails overflowed in Santiago, suspected criminals were herded into sports stadiums and tortured, if not shot on sight. The water of the Mapocho River was reported to turn reddish-brown as bodies, legs and arms floated in the water. Over 200,000 Chileans fled the country seeking exile. Thousands who chose to stay were "disappeared," most being tortured and killed, buried in mass graves or dumped from helicopter into the Pacific Ocean.
Most of the governments around the world refused to recognize Pinochet's military dictatorship or broke off diplomatic relations in protest. The U.S., however, immediately recognized Pinochet as Chile's president and rushed in economic aid. Even the 2006 New York Times obituary of Pinochet mentions that he "led the country into an era of robust economic growth." It fails to mention the decade of extreme poverty, fear and unemployment under Pinochet prior to the era of growth. And, the "robust economic growth" was based on Milton Friedman's "free market" philosophy that privatized all state enterprises, including social security, cut worker wages, restricted labor unions, sharply increased unemployment and, according to a 1994 World Bank report, left 40 percent of Chileans living on three-fourths of daily calories required to subsist. Through re-strengthening of NAFTA, the WTO and other trade organizations, Chile's copper resources are back in the hands of transnational corporations. Pinochet inherited his economic plan for Chile from a group of economists, studying under Milton Friedman, who opposed Allende and secretly prepared a stratagem for Chile that would be advantageous to American interests. This new economic policy, El Ladrillo ("the brick"), set forth "reforms" by way of deregulation and privatization. The copper industry remained nationalized under Pinochet, but through legislation and consolidation all outside corporate interests were allowed, once again, controlling interest.
In February of 1971, Allende presciently said:
Ever since my youth I have fought to bury prejudice and obsolete political frameworks for all time. Destiny has willed that I should head this democratic revolution in Chile, this struggle in which the word democracy has a much broader significance than when it is indiscriminately used to conceal essentially anti-democratic and reactionary political attitudes… our government's action against the monopolies which have plundered the Chilean economy and our attempts to recover the basic natural resources of the country for the Chilean people will affect certain North American private interests. However, we are sure that these interests cannot be identified with the greatest historical purposes of the North American people… whose progressive traditions I respect.
President Allende's five guiding principles for democracy (from his 1971 message to congress), legality, development of institutions, political freedom, nonviolence, and areas of social ownership, in comparison to General Pinochet's 1974 declaration, "all government opponents will be crushed and made to disappear" — and which form of government the United States chose to support, tells a terribly sad story of the state of our collective American dream. At the end of Pinochet's reign, investigators found he had stolen $28 million from Chile. A long legal battle to charge him with genocide ended unsuccessfully when doctors deemed him unfit, though media outlets claim he was "embarrassed" by constant reports of his crimes before he died. The trend of absolving ourselves of guilt by sacrificing villains after they have become harmless continues, and it leaves the criminals of capital largely at liberty to perpetuate the systems the villains helped create.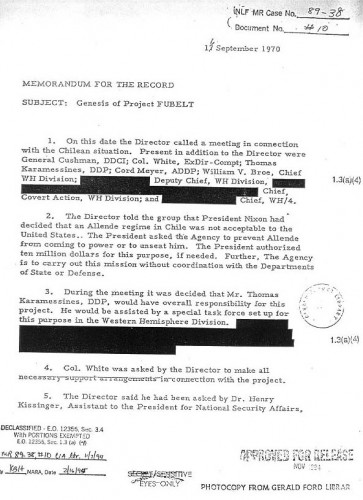 The propaganda of misinformation in the U.S. survives, as the transnational corporations that own the media outlets and lobby influence over the government see that their agenda sets the tone for how events of the world are discussed — agendas that place profit and expansion and markets above human consideration. It's no surprise then, that when the San José mine collapsed on August 5, 2010, the "story" in all the newspapers focused on spectacle and sensation; where the family members of the trapped miners were camping, keeping vigil; how to break the bad news to the trapped miners that it would take several months to get them out; the psychological effect of being trapped underground; how NASA had been called in to help, and what kind of state-of-the-art equipment they were using. The part of the story that saw very little coverage was the unsafe history of the mine; how other miners had previously died as the result of similar collapses; the mine has been shut down after the family of a miner who died in 2007 sued the owners; the mine had been fined over 40 times for breach of safety regulations. Empresa Minera San Esteban, the company who owns the mine, taking a page from the Enron book of business, plans to declare bankruptcy to protect its investments from legal actions taken by the trapped miners or their families.
Copper contributes to most of our daily activities because of its use in printed circuit boards, integrated circuits, wiring as well as hundreds of other applications, such as refrigeration, air conditioning and musical instruments. For those of us that use computers, the Internet, listen to- and play music, copper makes these activities possible. This digital age allows us to enrich our lives and have access to cultures that were the stuff of adventurers just a generation ago. Travel has been made easier; cell phone technology allows us to talk to just about anyone, anywhere; we carry small battery-powered devices for communication, entertainment and business; we can eat as if at a world's fair every day of the week. All of that is possible because of copper in Chile, oil in the Niger delta, lithium in Afghanistan, minerals for electronics from the Congo, United Fruit's banana republic in Honduras and Guatemala. The transnational corporations who exploit these natural resources, as well as the corporations who turn the resources into consumer goods, will advertise about the happy possibilities their products provide, but we as consumers know on whose backs those products were brought into existence?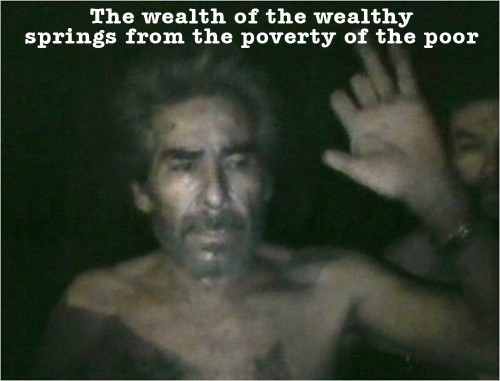 As people around the world are trapped in mines, raped for minerals, poisoned by their employers and suffer at the hands of corporations we have to acknowledge what being the human element that runs capitalism and democracy means to the world. The promise of the American dream is that anyone can strike it rich; while the reality is that one percent of the population control the purse strings while the rest of us work in service of that one percent.
Allende knew this when he addressed the United Nations Third Conference on Trade and Development in Santiago, April 13, 1972:
The basic mission of this third session is the replacement of an outdated and unjust economic and trade order by an equitable one based on a new concept of man and human dignity, and to promote the reformulation of an international division of labor which the less advanced countries can no longer tolerate, inasmuch as it obstructs their progress while it favors only the affluent nations… The human being should be the object and the goal of all development policies and of all desirable forms of international cooperation. This is a concept which must be borne in mind in every discussion, in every decision, in every policy measure which aims at fostering progress whether at the national or multinational level… We want to lay the foundations for a new society which will offer its members social equality, welfare, freedom and dignity.
The New Chilean Song Movement ("La Nueva Canción Chilena") was the embodiment, in sound, of all that Allende hoped for Chile. It's no wonder that after the coup, one of the first orders of business for Pinochet's military forces was to destroy Discoteca del Cantar Popular (the radical record company that released many of the new song artists), destroying not only the office and studio, but also the master recordings themselves. Today, the new songs survive from old LPs that made it out of Chile.
Stu Cohen, in cooperation with Rounder Records, released Chile Vencera! An Anthology of Chilean New Song, 1962 — 1973, and the royalties were donated to the Chile Defense Committee. The album is a compilation of new song artists culled from records that weren't destroyed by the military junta. All the musicians on the album were directly affected by the junta. Victor Jara, as mentioned at the beginning, was murdered by the military, Angel Parra was sent to prison, Isabel Parra and Patricio Castillo managed to escape Chile and seek exile, Quilapayun and Inti Illimani happened to be on tour in Europe during the coup and remained in exile.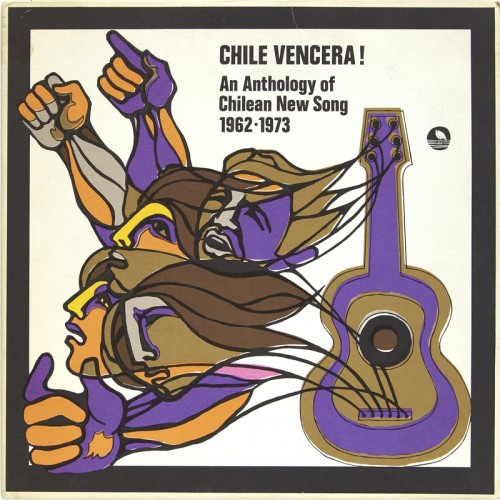 Bob Dylan has often been championed as the "voice of a generation," a title even he takes issue with. Dylan's ability to write that which seem so real in the mind of the listener is remarkable, and he deserves the praise he so often gets for his songwriting. But as a revolutionary or leader of the counter-culture, can we expect revolutionary innovation from someone whose profession it is to monopolize under established social conditions? It should be obvious that such revolutionary innovations come only from people who have received universal hostility and persecution from the status quo. For the people of Chile — the miners, agrarians, peasants, the proletariat — Victor Jara and the other artists of the Nueva Canción were exactly such, revolutionaries! Here is a small selection from the Chile Vencera! album: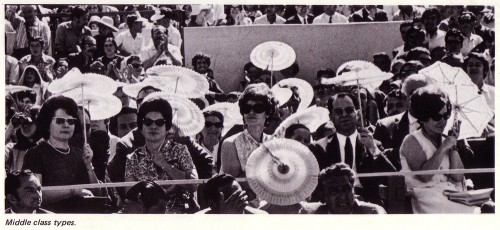 "Al Centro De Injusticia" — Isabel Parra
This song is a particularly fine example of pre-Allende social commentary. It attacks what is in terms of what should be. It is directed against the Eduardo Frei government, the upper classes, and the profiteering foreign business.
(Link to the lyrics in Spanish)
Chile is limited in the north by Peru
And by Cape Horn in the south
In the east there rises the cordillera
While in the west the coast
In the middle, the verdant valleys
Where people multiply
Each family has many kids
Who live poorly
Of course, some live comfortably
But covered with the blood of the slaughtered
In front of the most arrogant
Agriculture poses its questions
We buy potatoes from many nations
Though they originated in the south of Chile
In front of the tricolored flag
Mining is very difficult
The miner produces good money
But it goes into foreigners' pockets
Booming industries where several ladies
Work for a few pennies
And they have to do it, because
Their husbands' pay is not enough for a month
To escape the anguish of this pain
In the starry night I shut my voice
The homeland is beautiful Mr. Tourist
But they don't show you the slums
While they spent millions in a moment
People die in astonishing numbers
Too much money in the the public parks
While there is great misery in the hospitals
In the middle the of Alameda de las Delicias
Chile stands at the center of injustice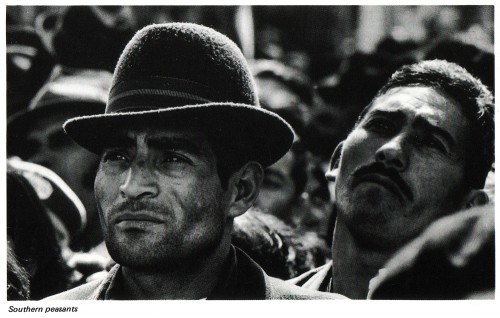 "Vamos Mujer" — Quilapayún
"Let's go Woman" is drawn from another cantata (Cantata Santa Maria de Iquique, 1969), possibly the single most famous record released in Chile by the New Song Movement. Written by Luis Advis, one of Chile's foremost classical composers, the cantata attests to the degree to which the movement was having an effect on areas beyond folk music.
The cantata tells the story of a massacre of miners and their families that occurred in the north of Chile in 1907. The miners and the families had gone to Iquique, a large northern port to protest the conditions in the nitrate mines. Their peaceful protest was met with bullets and several thousand were killed. The massacre was the single most important event in the development in the militant workers' movement in Chile. The rhythms and melodies come from the traditional folklore of the north. The narrator is Hector Duvachelle.
(Link to the lyrics in Spanish)
[Narration]
The workers had accumulated many wrongs
Much poverty and many injustices
Finally, they could no longer stand it, and the words
Had to demand that which they were owed

At the end of 1907
The strike in San Lorenzo was stirring
And the cry which exploded in the desert
Was heard at once by all

From one mine to the other, like blasts
They heard protests of the workers
From one mine to the other, the owners
With their scornful, indifferent faces

What could the owners care of the rebellion
Of the dispossessed, of the outcasts
Soon they will return, repent
Brought by hunger, their heads lowered

What happens then, if no one listens
Each brothers asked the other
What we ask for is just and it's so little
Must we lose hope?

So, with love and with suffering
Their wills were united
In only one place would they understand
They had to go down to the big port

[Sung]
Let's go woman, we are leaving
For the city
All will be different
There can be no doubt
There can be no doubt, have faith
Soon you will see
That in Iquique
They'll understand

Take my poncho woman
It will cover you
Take the little one in your arms
He will not cry
He will not cry, have faith
Soon he will smile
You will sing him a song
And then he will sleep

What is it that's happening? Tell me
Don't be silent any longer

It's just a long road
You must travel
Over the hills
Let's go woman
Let's go woman, have faith
We must arrive
In the city we will be able
To see the whole ocean

They say that Iquique is big
Like a Salar [a huge nitrate mining area]
With many beautiful houses
That you will like
That you will like, have faith
As there is a God
There in the port
All will be better

What is it that's happening? Tell me
Don't be silent any longer

Let's go woman, we are leaving
For the city
All will be different
There can be no doubt
There can be no doubt, have faith
Soon you will see
That in Iquique
They'll understand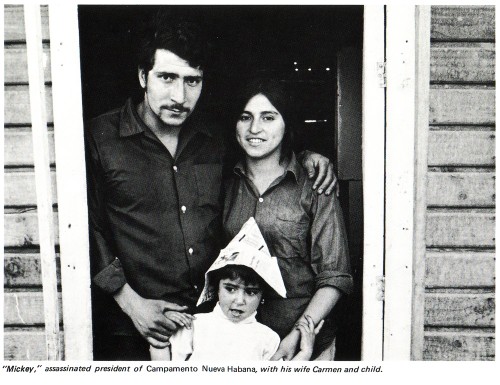 "La Democracia" — Angel Parra
Many of Angel's songs are written with biting satire. "La Democracia" is no exception. The tone is set in the first few lines and it never lets up. The expression, "let the dogs bark" in the last verse is from a 16th century Spanish play.
(Link to the lyrics in Spanish)
How beautiful is democracy in this lovely country
How pretty are the slums that they build
This permits poor and rich alike
To have the same right when called to the polls
I am a democrat, a technocrat, a plutocrat and a hypocrite

I like democracy because it lets you observe
The fantastic progress of those who have the freedom
To exploit a few and increase their capital
Besides, our rights, and I say it happily
Permit that blacks and whites admire the monuments
I am a democrat, a technocrat, a plutocrat and a hypocrite

And without problems of class or religious creed
We can see how the "cute ones" land on the moon
And in the reserved or common seats
See how Colo-Colo [a soccer team] wins
I like democracy winter and summer
The cops practice shooting at young libertarians
I am a democrat, a technocrat, a plutocrat and a hypocrite

Of course, some starving, wretched ones
Would like to change because they are envious
Let me say to the people, let the dogs bark [so not worry]
I like democracy, I say it with dignity
If you hear sabre rattlings, it is mere chance
I am a democrat, a technocrat, a plutocrat and a hypocrite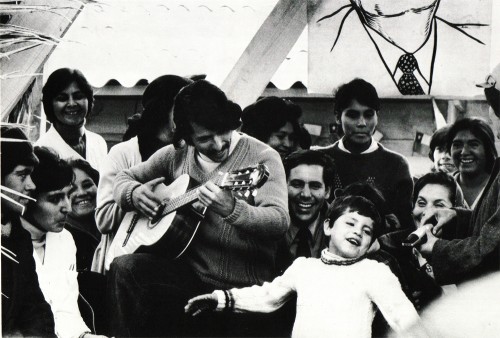 "Las Casitas Barrio Alto" — Victor Jara
This song is an example of the international borrowing that went on during the period of folk revivals in many countries. In the U.S., Pete Seeger frequently performed "Guantanamera." In Chile, Seeger's recording of Malvina Reynold's song, "Little Boxes," became popular, and "Las Casitas Barrio Alto" is Victor Jara's version changed to fit the Chilean reality.
[Dopesmokers take note, this is the Weeds theme song.]
(Link to the lyrics in Spanish)

The little houses of the rich suburb
With fences and gardens
A beautiful car entrance
Waiting for a Peugeot
They are pink, green, white and light blue
The little houses of the rich suburb
Made with Elmer's Glue

And the people of the little houses
They smile and visit each other
They go together to the supermarket
And they all have TVs

There are dentists, merchants, landowners and pushers
Lawyers and pensioners and they all wear polyester
They play bridge, have martinis
And the children are all blond
And with other blonds
They go together to the fancy school

And then the spoiled daddy's boy
Goes off to college
Where he becomes concerned
With social problems
He smokes in his Austin Mini
He plays with bombs and politics
He kills generals [referring to the assassination of René Schneider]
And is a seditious gangster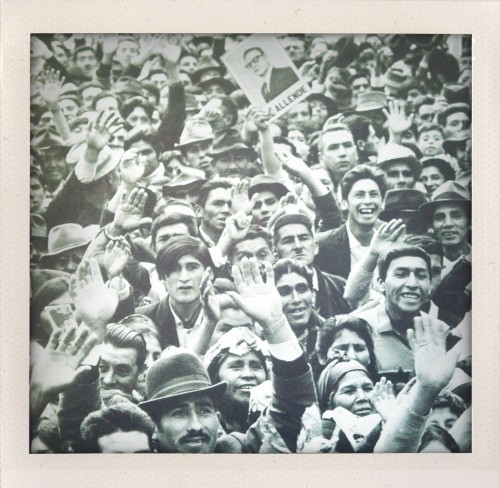 "El Pueblo Unido Jamas Sera Vencido" — Quilapayún
"El Pueblo Unido" is one of the great, optimistic peoples' fighting songs produced by the New Song movement. It is sung here in concert by Quilapayún, appearing at the First International Festival of Popular Peoples' Song in Santiago. The recording was made in 1973, the year of the coup.
(Link to the lyrics in Spanish)

[Shouted]
The people united shall never be defeated
The people united shall never be defeated
The people united shall never be defeated

[Sung]
Stand up to sing, we know we're going to win
Flags of unity are moving forward
And you will march at my side
And you will see your song and your banner grow
The red light of dawn
Announces the life to come

Stand up to fight, the people shall win
There is a better life coming
To conquer our happiness
In a clamor a thousand fighting voices
Will rise and sing a song of freedom
With determination the homeland will win

And now, the people that rise to fight
With a giant's voice crying, "Forward!"
The people united shall never be defeated
The people united shall never be defeated

The homeland is forging its unity
From north to south they will mobilize
From the burning mineral salt mines
To the southern forests, they will go united in battle and work
They will cover the homeland
Their march announces the future

Stand up to sing, the people shall win
Imposing truth from millions within
The fiery steel battalions
Their hands bring justice and reason
Woman, with fire and courage
You are already here, together with the workers
And now the people stand to fight
With a giant's voice, they shout, "Forward!"
The people united shall never be defeated
The people united shall never be defeated
The people united shall never be defeated
The people united shall never be defeated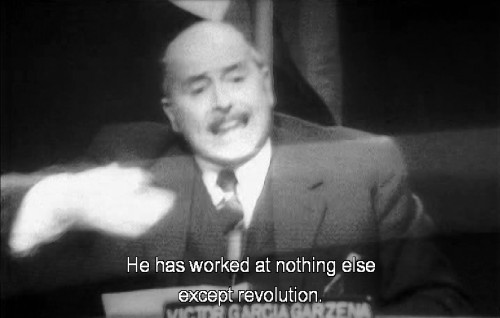 If you're interested in a distinctly Chilean view of Allende, Pinochet and the coup, Patricio Guzmán has made a number of documentaries on the subject. First, The Battle of Chile, a three-part, four-and-a-half hour documentary that spends most of its time in the streets. From 1972 through 1979, five people made the film using one camera with film supplied by French artist Chris Marker. Of course, the military junta banned the film. Before it was banned, it was secretly stored in the Swedish Embassy in Santiago and the raw footage had to be smuggled out of Chile to be edited in Cuba and released in France through Marker. The cinematographer, Jorge Müller Silva, was "disappeared" by the Pinochet. In 2004 Guzmán released Salvador Allende, a documentary about the personal impact Allende and the Popular Unity had on Guzmán's life. The film spends time with Chileans in a post-Pinochet reflection on a dream that was cut short. It's particularly hard to watch folks reflect, often for the first time publicly, on what it meant to be part of Allende's democratic revolution; a worker who states one of his biggest regrets was not positioning himself with others in front of the presidential palace when the military was bombing Allende, who was locked inside; a family, who had buried a photo album of Popular Unity-related events during the Pinochet dictatorship, unearth the memories and express their regret.
Two correlative points worth mentioning at the close. First, Salvador Allende's life, as well as his dream for a social democracy, were cut short by White House-financed forces on September 11, 1973. Most people outside America refer to this day as "the forgotten 9/11." The captains of industry, the principals of American capitalism, want us to associate Marxism or Socialism with terrorism. It's shameful that the first 9/11 the White House was involved in, one that sought to eradicate Marxism, birthed a dictatorship that lasted for decades, killed thousands, and became the embodiment of terror for those living under its conditions.
Second, decades past, with Allende, Pinochet and many of the people who lived through the coup long since passed, the historic artifacts of the time — the Nueva Canción movement and Guzmán's documentaries — survive through technologies that all rely on Chile's greatest export, copper. Victor Jara's music, Patricio Guzmán's films, and all the ideas contained therein survived through technology, their work slowly countering the efforts of transnational corporations who pay to make history malleable. If you're reading this, it owes in no small part to copper.
Other men will overcome this dark and bitter moment when treason seeks to prevail.
—Salvador Allende, September 11, 1973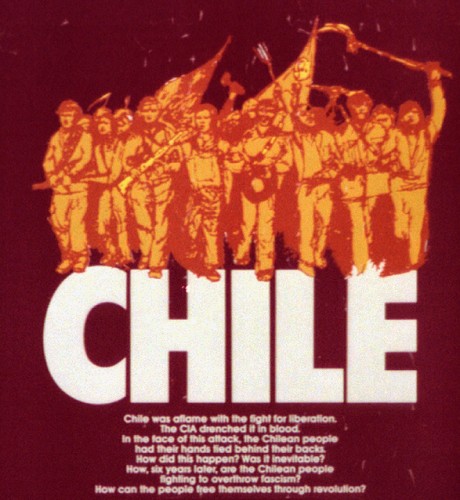 Posted by